Director Clips: Ram Gopal Varma
3 Film Clips
TAs Satya (J.D. Chakravarthi) is handed a gun by Bhiku Mhatre (Manoj Bajpayee), he is given the order to go kill Jagga, who had been disrespectful to him earlier. This is his transition from "tough guy" to "Bhai", and being a part of Bhiku's brotherhood.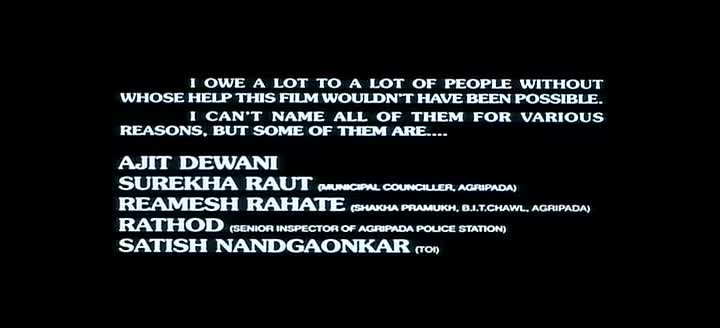 This scene introduces the viewer to the city of Mumbai and the prevalence of crime in this city through a montage of the people of Mumbai in their daily life (work, crime, policing, etc.) before honing in on Satya's story
This scene is a montage that isolates Satya (J.D. Chakravarthi) and Vidya (Urmila Matondkar) and further establishes their intimacy, showing that Satya is not just a rugged, tough gang member, but complex and emotional as well. This intimacy exposes viewers to his true feelings and makes him more human, as opposed to a hypermasculine criminal.
0 Series Clips